Exclusive Offer: Sign Up For A Private Office Today - No Minimum Term - And Enjoy The Rest Of The Month For Free
Full-Time Private Offices
Dedicated office space that sets your business up for success. Enjoy the simplicity of a fully furnished office with all traditional business services included - phone, internet, copies, prints, faxes, and scans - for the rest of the month, for free, with no minimums. Our superlative, dedicated, and fully furnished office spaces come with:
Your own space – centered around privacy – with four walls, lockable doors and wide corridors
24/7 office access and unlimited access to Community Café - which is fully stocked with gourmet coffee, tea, and filtered water
A professional, always smiling, on-site team that provides your business with any needed support
Client and guest Wi-Fi access with a fully managed and supported firewall – with an on-site and remote IT support team to answer all your tech questions
Access to spacious, fully equipped meeting rooms at any location nationwide
The ability to customize your offices furniture configuration to best fit your feng shui
Why Should You Take a Full-Time Office With Carr Workplaces?
For those looking to experience the complete range of what Carr Workplaces has to offer, taking your very own full-time private office at one of our nationwide locations, is just right for you. A full-time private office at Carr Workplaces gives you the privacy that you've desired and the prestige of location that you've yearned for your business – but why stop there? When you take a full-time private office with Carr Workplaces, you also receive access to a wide variety of first-class amenities such as phone services, IT & network services, in-person office support, furniture customization, and access to our state-of-the-art meeting and conference rooms.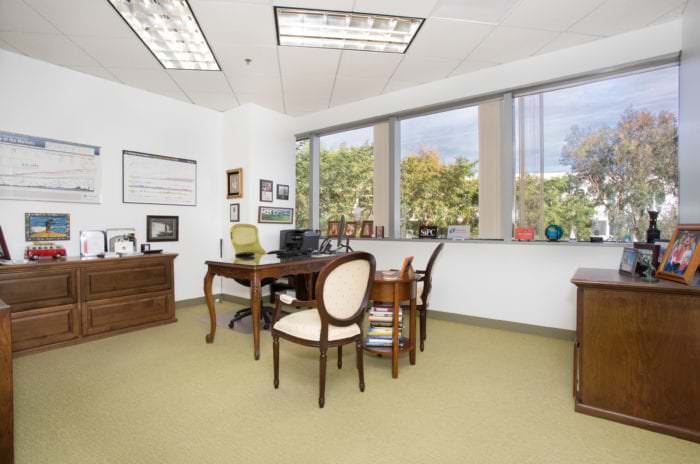 What Phone Services Are Included in a Carr Workplaces Full-Time Office?
A full-time private office with Carr Workplaces comes complete with a VoIP handset phone and a dedicated direct line. Your VoIP phone has unlimited local and long-distance calling, one voicemail mailbox per person, and a voicemail to email feature if you find yourself too busy to take a call. 
Just like our business phone service plan, full-time private office users can utilize our call screening feature, to have one of our smiling team members answer and direct your phone calls as a first point of contact. Choose what your clients hear when they call you, with a customized greeting as an additional service of call screening. As a bonus, full-time private office users are also provided softphone options for any potential telephone computing via desktop or your mobile device. 
What Kind of Technology Support Will I Receive?
For those who may not fancy themselves as tech-savvy – or if you just want that assurance – a full-time private office comes with access to our remote and on-site IT support team. 
For your internet and network needs, your full-time private office is equipped with client and guest Wi-Fi access, a fully managed and supported firewall, a 24/7 network operations center, and remote network monitoring to keep any business transactions safe and secure. 
How Will My Traditional Office Needs Be Supported?
To be straightforward, we don't miss a beat when it comes to ensuring that all your traditional office needs are met. Full-time private office users receive access to unlimited black and white copies, printing, scanning, and faxing. For those mailing and receiving packages, enjoy discounted FedEx rates, postage available on-site, and packaging supplies available in our business center. 
I'm Picky About My Office Layout – Is There a Potential Work-Around Around This?
We don't pride ourselves on flexibility for nothing. Your fully furnished, full-time serviced office space comes with the ability to customize and configure your furniture the way you want. Full-time private office users also have the option to customize paint and space design to create your ideal work environment. 
Additionally, as we understand that mental and physical health is a critical part of work life, full-time private office users will also have access to our Healthy Office Bundles.
My Business Centers Around Collaboration, How Can This Remain Constant in a Full-Time Private Office?
Each of our nationwide locations are home to multiple state-of-the-art meeting and conference rooms. Included in your monthly rate is up to eight hours* of meeting and conference room usage – with discounted member rates for any overages. Utilize these eight hours in any meeting or conference room at any Carr Workplaces location across the United States. 
Take advantage of our newly launched WorkReady PLUS app, where full-time private office users can book a meeting or conference room from the palm of one's hand, access meeting and conference room support, and coordinate around other reservations. 
From a collaboration standpoint, WorkReady PLUS allows users to virtually connect with other members within the app itself which can lead to fruitful networking among Carr Workplaces clients down the road. 
*Excludes New York and San Francisco locations. San Francisco provides four hours per month. Central Park and Midtown not included.
Does a Full-Time Office Have Any Additional Benefits?
Additionally, WorkReady PLUS allows users to submit requests, communicate with the Carr Workplaces team, make/cancel meeting reservations, view/pay invoices, and receive any community updates. 
WorkReady PLUS users receive discounts at national businesses such as Zipcar, DoorDash, PetPlan, TriNet, Kimpton Hotels & Restaurants, and GoToMeeting.  
See Our Private Offices in: