Meeting Rooms
Starting at $40 an hour
Our professional, state-of-the-art, and well-equipped meeting rooms are available for hourly and daily rental. You can expect:
Small, medium, and large sized layouts – all beautifully updated with live plants and modern furniture – to meet your specific needs
Best social distancing practices such as frequent cleanings, a limited number of individuals allowed in at once, and touchfree alternatives
A high-speed wireless internet connection with convenient, built-in ethernet ports
A multi-line telephone handset with unlimited local and long-distance calling
Built-in televisions, projection screens, and projectors with room rental
Virtual conference options include both polycom phones and conference call bridges
The provision of full-service catering or beverage service options – can be customized to specific needs/diets of client
Administrative services including assistance with presentation support, binding of materials, printing, copying, and scanning
Book a Meeting or Conference Room at Any of Our Arlington Locations
Clarendon

3033 Wilson Boulevard, Suite 700
Arlington, VA 22201
Why Host Your Meeting or Conference at One of Our Arlington Locations?
Each Carr Workplaces meeting room is updated and equipped with modern furniture, a lively plant selection, technical IT support, and state-of-the-art conferencing services such as high-speed wireless internet, built-in televisions, projection screens, polycom phones, conference call bridges, and a multi-line telephone handset with unlimited local and long-distance calling. This holds true for each conference room at our Arlington locations. With a wide range of additional amenities available to add on such as full-service catering, A/V equipment rental, presentation support and audio/web/video conferencing well as concierge service from our professionally trained, always smiling administrative team, we're here to make sure your meeting runs as smoothly as possible.
What Steps Are Being Taken at Our Arlington Locations to Maintain a Clean and Safe Office Space?
Imperative in today's ever-changing work environment, Carr Workplaces is ensuring and protecting the safety of our clients at each of our centers. Within our meeting rooms, clients are required to wear face masks, the number of individuals permitted at a time are limited, and our team members are executing frequent cleanings of each meeting room. Additionally, various safety and social distancing signage has been put into place to remind our clients how we can best keep each other safe. From installing splash guards at our reception area, to providing touch-free alternatives at high volume touchpoints, we have enacted center-wide safety protocols to create a healthy workspace for our clients to safely continue their innovative, groundbreaking work. For more information, navigate to our updated Health & Safety Policy.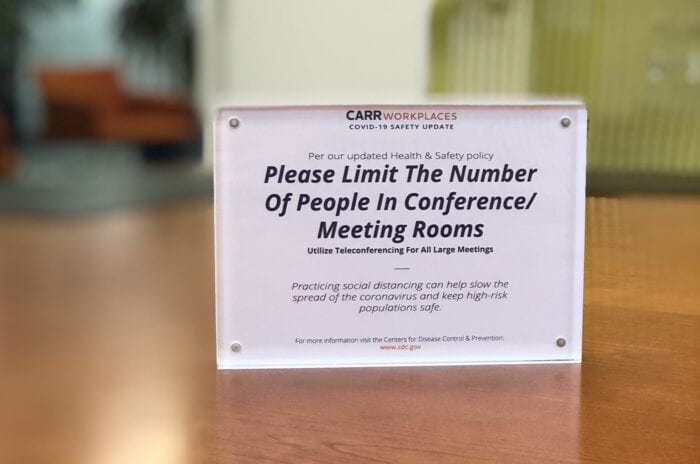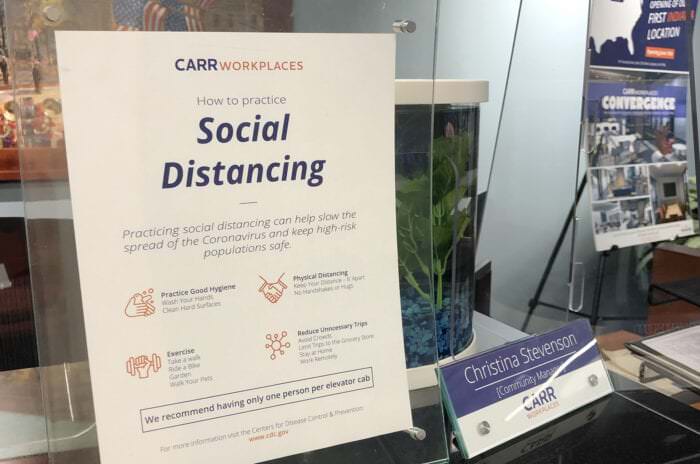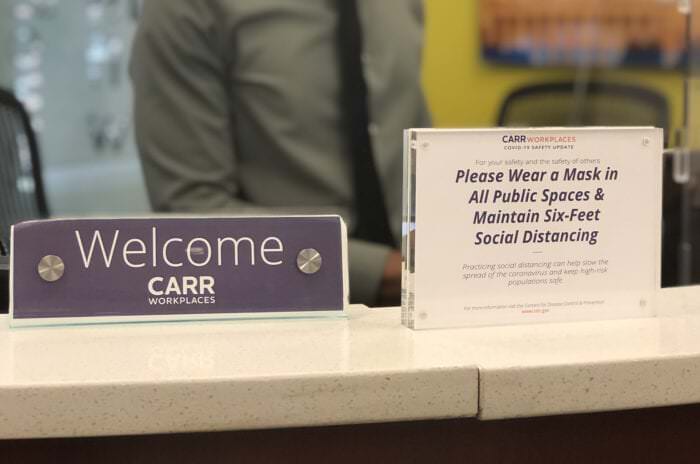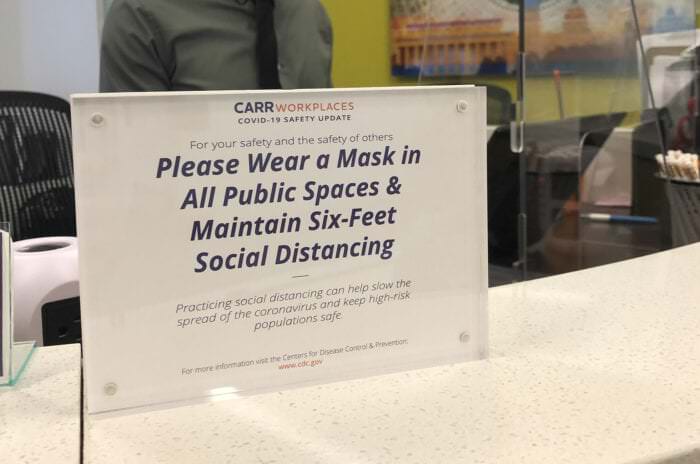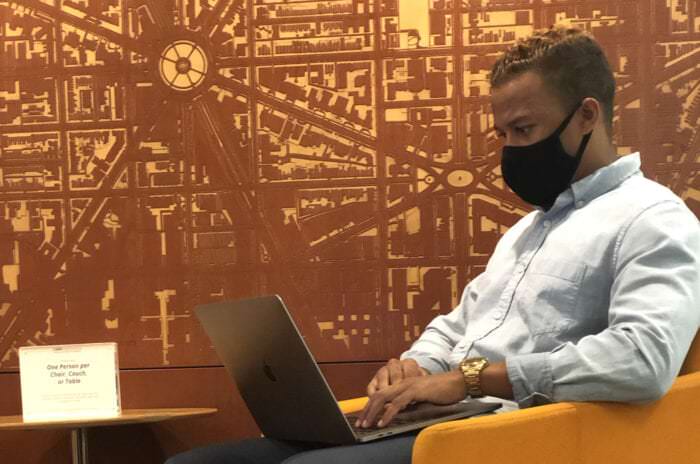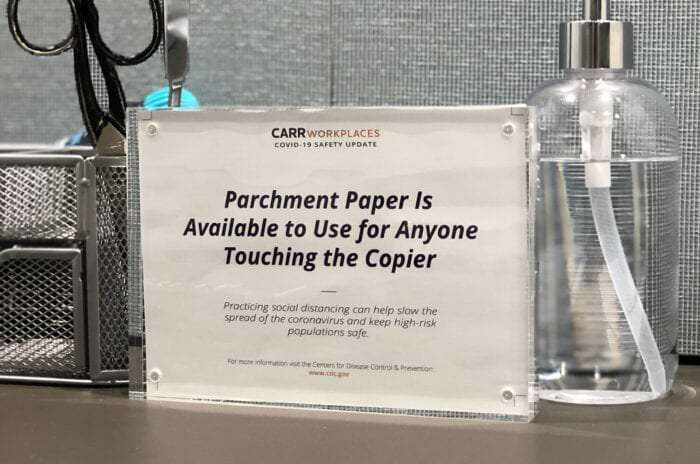 What Is the Hourly Rate for a Conference Room in Arlington?
Starting at $40 an hour, you can host your conference or meeting in Arlington. With both hourly and daily rentals available, our meeting room terms are dynamic and scalable to best meet your needs. If you plan on using the meeting spaces in Arlington or at another Carr Workplaces location across the country, you may want to consider becoming a WorkReady PLUS member which unlocks up to a 50% discount on room rentals.  
Can I Book a Meeting Room for Just a Couple of Hours?
Absolutely. Whether you need meeting room space for just a brief hour meeting, for a longer two to three-hour meeting, or even for an all-day event, our meeting rooms are bookable in hourly increments – or for a full day. As mentioned above, our administrative team stands ready to manage all of your catering needs for longer meetings and our fresh baked cookies are a must try.  
What Size Conference and Meeting Rooms Are Available?
Each Carr Workplaces location has multiple meeting and conference rooms of various sizes. This means that you can rent a large or small conference room, depending on the number of people that will be in attendance.
Need your whole team involved? Our largest conference room has seating for everyone. Only need a few seats for a more private meeting? One of our smaller meeting rooms will suit you perfectly.
Need more specific details? Give our administrative team at your preferred Arlington location a call for more information on meeting room dimensions and seating.
What Other Amenities Can I Expect From a Meeting Room Rental?
We also provide complimentary stationary, pens, whiteboards and flip charts as well as gourmet coffee, tea and filtered water for refreshments. For larger meetings – or even luncheons – full-service catering, A/V equipment rental, presentation support and audio/web/video conferencing are all available to add into your meeting room rental.  
Book now to see meeting room availability at any of our Carr Workplaces locations. Are you on your mobile device? You can book a meeting or conference room from the palm of your hand, by becoming WorkReady PLUS member. If you have any additional questions about a meeting or conference room rental with Carr Workplaces, head to our chat function in the bottom right corner to learn more and unlock money-saving member rates. 
See Our Other Meeting and Conference Room Locations: