Imagine this: a private, quiet, and elegantly decorated office space in a high-end location of either a major city or bustling suburban area, that is designed to help you do your best work as efficiently as possible.
That's what Carr Workplaces' private offices have to offer you and your company and that's also why so many working professionals choose us as the home of their operations.
With locations across the country, Carr Workplaces' private offices are perfect for legal professionals, consultants, accountants, financial advisors, small to medium sized companies, any type of business that requires dedicated space for focused or confidential work, and much more.
Even if your industry isn't mentioned above, Carr Workplaces' various product offerings – including private offices, virtual offices, on-demand meeting and conference rooms, and even drop-in coworking space – can be adapted to fit whatever your business may need.
Carr Workplaces' private offices include flexible, all-inclusive lease terms that give businesses like yours the freedom to scale office space as needed. Our private offices are ideal for focused or confidential work and provide you with access to frequent networking events and meeting space as you need it.
Check out these 10 reasons business pros choose Carr Workplaces' private offices over other office space options.
Private Offices for Focused, Confidential Work
Carr Workplaces' private offices are ideal for work that requires minimal distractions and privacy. Each of our private offices comes equipped with modern furnishings, four walls, and a lockable door to ensure you have the privacy and discretion you need.
You also have the option to customize your office furniture configuration to make your own office work for you. Our private offices are also available in a variety of sizes and configurations.
Ideal for Lawyers, Accountants, Financial Advisors, and Others
Legal professionals, HR consultants, accountants, sales professionals, and financial advisors often prefer our private offices over traditional office space rentals. These type of professions often need dedicated space in which to hold confidential meetings where privacy is paramount.
Having access to quiet, dedicated space for meetings also helps establish trust with clients, partners, and staff members alike.
Flexible Leases
 Unlike traditional office space, you don't need to sign a long-term lease when you work from a Carr Workplaces private offices. You can rent our private offices by the month, day, or even hour.
As a growing business, you'll love our private offices because you can start with a private office or two and slowly add additional offices as your company grows. With Carr Workplaces' private offices, pay only for what you need today — nothing more.
All-Inclusive Private Office Options 
At Carr Workplaces, we offer a variety of private office options including Full-Time Private Offices, Part-Time Private Offices, Private Day Offices, and Flex Offices to accommodate your specific private office needs.
We won't tack on extra fees to your monthly invoice every time you print a document, need help with a presentation, or require someone to greet your guests. Our private offices feature all-inclusive pricing with no hidden upcharges or add-on fees.
Class A Buildings
Also notable: Carr Workplaces' private offices are located in Class A buildings.
Class A buildings are considered the newest and highest quality buildings in their respective markets. These types of buildings are strategically designed and constructed to enhance productivity and creativity, empowering you to do your best work.
Not only are our Class A buildings aesthetically pleasing, but they also are built with the highest construction standards and infrastructure, and they feature a plethora of amenities.
For example, our newly renovated K Street location includes professionally designed meeting and conference spaces and on-site building management and security, which are all hallmarks of Class A buildings. In addition, our K Street center features covered parking, a fitness center, high-speed WiFi and back-up routers, and a gorgeous rooftop deck that is made for special events.
Prestigious Locations
Carr Workplaces' private offices are situated in prestigious urban and suburban neighborhoods to give your business an address that will impress partners, clients, and colleagues.
Some of our prestigious private office locations include Boston's Financial District, Washington D.C.'s Pennsylvania Avenue, New York's 5th Avenue, and Chicago's Millennium Park area.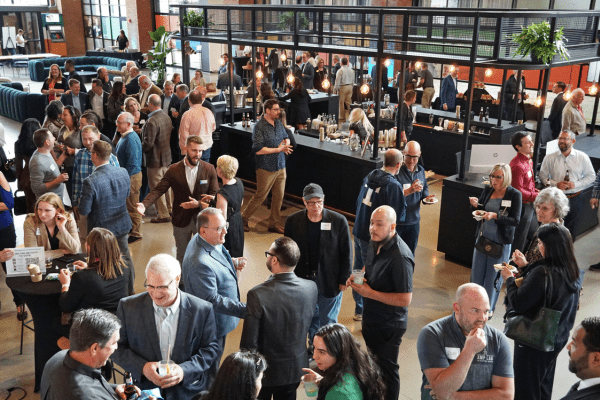 Networking Events
As a successful entrepreneur, you recognize the role that relationships play in the growth and health of your business. The good news is that as a Carr Workplaces' private offices client, you'll be invited to monthly and weekly on-site networking events.
For busy professionals like you, access to networking events is a time-saver. You can make new connections in your local business community by walking down the hallway to our networking event space instead of taking time to travel to an event off-site.
On-Demand Access to Meeting and Conference Rooms
All Carr Workplaces include meeting and conference rooms that can be booked by the hour, day, or month. When you need to hold a staff meeting, meet with investors, or take a deposition, consider using one of our all-inclusive meeting and conference spaces.
Our state-of-the-art meeting and conference rooms are available in small, medium, and large-sized layouts. They come equipped with high-speed wireless internet, conference call phones and bridges, built-in TVs, and projection systems.
Our Amenities and Team
With a traditional office lease, you receive an empty room and that's about it. If you need any kind of support, you must hire staff members, which adds yet another expense to your budget.
As a Carr Workplaces' private offices client, you'll have access to our on-site team for assistance with presentations, printing and copying, and more. Our team will greet your guests, answer incoming calls to your business, and receive and sort mail and packages for your company.
Convenient In-App Booking, Perks and Discounts With WorkReady+
As a private office client at Carr Workplaces, take advantage of the convenience of our WorkReady+ mobile app.
Save time by using our WorkReady+ app to book meeting and conference rooms, as well as workspaces across our national portfolio of locations. You also can submit maintenance requests and order catering services for your next event via the app.
With a WorkReady+ membership you'll receive discounts on meeting rooms and workspaces across our nationwide locations plus discounts on business services such as car rentals and hotel stays. WorkReady+ also offers discounts and deals for life outside of work on such activities as yoga and fitness classes.
Set up a profile in WorkReady+ to promote your business and discover new business opportunities, as well. A WorkReady+ membership lets you connect with a vibrant business community of more than 7,500 fellow business professionals via the app, which means you won't have to look far when you need a specific type of consultant or want to grow your professional network.
Call us at (866) 982-5803 to learn more about a Carr Workplaces location near you or Schedule A Tour Of A Carr Workplaces Location.
Don't miss "Carr Workplaces' Flexible Private Offices: The Go-To Solution For Small To Medium Sized Businesses."